APPLICATIONS
TECHNOLOGICAL SOLUTIONS FOR ANTICOUNTERFEITING
TOP (Tracking Original Products) is the answer to a main issue for many productive sectors. It provides innovative and economically sustainable tools to support and protect made in Italy products.
Through the automatic identification technology that SAIT disposes, it is possible to optimize warehousing processes in an international supply chain. The system offers automated traceability and control for goods receipt, packing and shipping, as well as checking and counting incoming goods.
Authenticity

All the potential of RFID technology to improve the customer experience and tell the product story with in-app communication.

Unique product codification via RFId tag.

Unique marking

Gray and parallel market control.

RFId labels to automatically control the movement of goods.

Unique clothing tags for anti-counterfeiting.

Storytelling

Marketing and customer experience management, logistics processes optimization.
Easy and automated ordering and reordering system.

Customer engagement.

Technologies

For transparency, engagement and consumer retention.

Technologies for the management of multimedia informational content, on production chain (smart label) and on the environmental impact of production (green label), storytelling and engagement.
SWT // Technological Solutions
Technological solutions bringing efficiency, cost savings, quality and sustainability to the fashion business.
Process traceability in blockchain technology
Anti-counterfeiting
Logistics control
Distribution awareness
Data security
Real-time analysis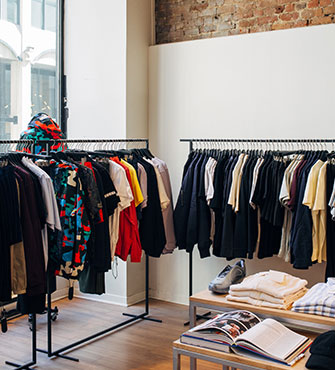 IoT // Customer Care
Technological solutions nurturing consumer relationships.
Production chain information (smart label)
Transparency on the environmental impact of production processes and on sustainable practices (green label)
Multimedia informational content
Engagement and retention